A new web is emerging that goes well beyond just Bitcoin, Ethereum, and money, but promises an entirely new computing paradigm, and data economy. The Metaverse Podcast is a series hosted by Outlier Ventures Founder & CEO Jamie Burke where he introduces you to the founders, entrepreneurs, investors, and the policymakers that are shaping Web 3, the Open Metaverse, and the future of digital interaction.
Episodes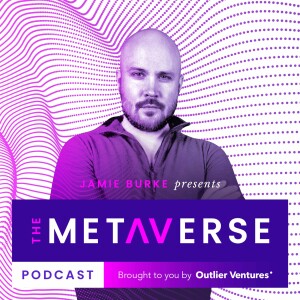 Monday Jan 10, 2022
Monday Jan 10, 2022
On this episode of The Metaverse Podcast, we are joined by Graham Jenkin, CEO of CoinList, a regulated platform giving users access to the best new crypto projects before large exchanges. helping blue chip projects like Filecoin, Solana, Celo, Algorand, and Dapper grow.

Graham talks to Outlier Venture's CEO Jamie Burke on the early days of CoinList, the recent capital injection into Web3, tokens as an incentive mechanism, working at AngelList, access to ICOs, working with regulators, and more. 

------------

Whether you're a founder, investor, developer, or just have an interest in the future of the Open Metaverse, we invite you to hear from the people supporting its growth.

Outlier Ventures is the Open Metaverse accelerator, helping over 100 Web3 startups a year. You can apply for startup funding here - https://outlierventures.io/base-camp/

Questions?

Join our community:

Discord - https://discord.gg/xT4Jm7nYtm
Telegram - https://t.me/outlierventures
Twitter - https://twitter.com/OVioHQ
LinkedIn - https://www.linkedin.com/company/outlierventures/ 
More - https://outlierventures.io/links/

For further Open Metaverse content:

Listen to The Metaverse Podcast - https://outlierventures.io/podcast-overview/ 
Sign up for our quarterly live events at - https://diffusion.events
Check out our portfolio - https://outlierventures.io/portfolio/

Thanks for listening!